I plant covering agent manufacturing, production of covering agent is mainly used in ladle, intermediate clad steel surface. As a resulat, this product can prevent the secondary oxidation and the thermal radiation and has good heat preservation performance is strong, spreadability, strong adsorption inclusions (bag), compound, liquid, and no erosion of ladle lining, no incrustation, polluting the environment etc, is the new generation of coating agent products.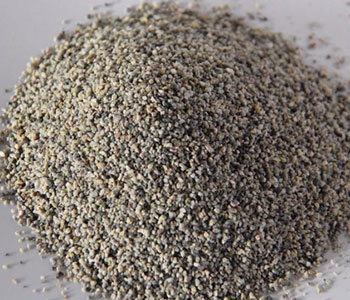 The series of metallurgical auxiliary can be divided into riser covering agent and tundish covering agent. The covering agent of riser is mainly applied to the open riser of cast steel and cast iron. The solidification time of riser is obviously prolonged, the shrinkage shape of riser is improved, the safety coefficient of riser is increased, and the shrinkage effect of riser is improved.
Covering Agent Manufacturing Advantage
1. The product has high heating value and outstanding thermal insulation performance, which can make the local melt temperature reach more than 1650℃.
2. It can quickly form a porous structure covering layer, with very low thermal conductivity and good thermal insulation effect.
3. Spreading property, good expansibility, can evenly spread on the upper surface of the riser.
4. Simple and convenient to use, with little amount added.
The appearance of the series of covering agent are small gray-black particles, tasteless, no harmful ingredients, easy to operate, easy to use, no dust pollution. It also has good thermal insulation performance, which can obviously prolong the time for the riser to encrust and greatly improve the shrinkage feeding efficiency of the riser, and is conducive to the discharge of gas in the casting and the floating of inclusions.
It is important to note that covering agent manufacturing should be stored at room temperature, in a dry, cool place. Avoid overheating, damp, strictly away from the source of fire, heat, storage should be fire measures.
Zhengzhou Rongsheng Kiln Refractory Co.,Ltd main products are all kinds of shaped, unshaped refractories and metallurgical auxiliary materials. The product sells well at home and abroad, receives the customer the widespread high praise, if has the need, invites the consultation!
Leave your requirements about the refractories you need. We will reply you within 24 hours. :