Alumina bubble brick is refractory brick, of which the raw materials are alumina bubble and alumina power, plus other binders, being produced in the process of high temperature firing. Alumina bubble brick is a new type of high temperature heat insulation material, with features of high mechanical strength and light weight. It is widely used in the gasifier used in the petrochemical industry, reaction furnace used in the carbon industry, the induction furnace used in the metallurgical industry, and high temperature furnace.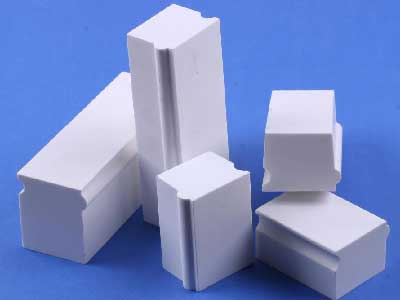 Physical and Chemical Index
   Brands

Items

LKZ-88
LKZ-98
Max service temperature
1650
1800
Al2O3%≥
88
98
SiO2%≤
一一
0.2
Fe2O3%≤
0.3
0.2
BD g/cm3≤
1.30-1.45
1.40-1.65
CCS  Mpa≥
6
8
RUL ℃ (0.1Mpa, 0.6%) ≥
1650
1650
PLC 1600℃x 3h%≤
0.3
0.3
Mpa   W/m.k≤
0.9
1
Bubble alumina refractory is refractory material that is resistant to high temperature, energy saving, and lightweight, and it can be used in all kinds of atmosphere, because of its volume stability. It is made of the alumina by means of smelting blowing in the electric furnace.
Alumina Bubble Bricks Components
Alumina bubble brick is made of the alumina hollow ball, the sintered alumina power, and the binder according to a certain proportion, being manufactured in the process of molding, drying, and firing. Of the alumina bubble brick, the grain size of the alumina hollow ball is about 5-0.5mm, alumina power is about 30%-35%, and the binder is about 5%. Hollow ball can be used as the insulation filler at high temperature, or super high temperature, high temperature concrete, and high temperature castable, etc. Alumina power is made of industrial alumina after firing, grinding, pickling and drying at the high temperature 1500℃. As for the binder, alumina sulphate solution is usually used.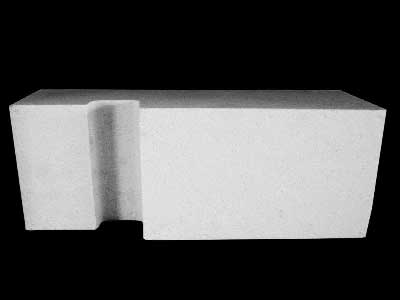 Alumina hollow ball:  grain size is about 5-0.5mm

Sintered alumina power:

  30%-35%
Binders:   5%
Manufacturing process: molding, drying, and firing
Alumina Bubble Bricks Properties
There are a lot of closed pores on the alumina bubble brick, and compared with other bricks, the alumina bubble brick has lower bulk density, about only 1.1-1.5g/cm, so such brick is light in weight, with features of excellent thermal shock resistance, and strong resistance to the erosion of the gas or slags. In addition, alumina bubble refractory brick has thermal insulation properties, and low thermal conductivity, thus reducing the heat dissipation and improving the furnace heat efficiency, shortening the production period, and saving energy about 30%. If alumina bubble bricks are used, about 1.1-1.9 ton bricks and 80% insulation materials can be saved. Besides, because of the good structure, alumina bubble brick has high mechanical strength.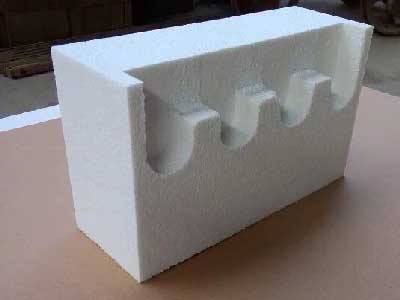 Excellent thermal shock resistance
Strong resistance to the erosion of the gas or slags
Good thermal insulation properties
Low thermal conductivity
Low bulk density and light in weight
Alumina Bubble Bricks Applications
Alumina bubble bricks are widely used in the high temperature thermal equipment of the metallurgy industry, refractory materials, light industry, chemical industry, petrochemical industry and glass industry, etc. Such as the following parts: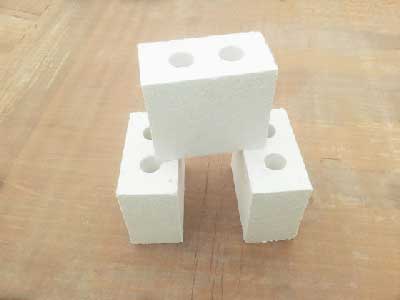 Induction furnace
Nitriding furnace, cracking furnace
Hot blast furnace
Heating furnace, electric furnace
Down draft kiln, shuttle kiln
Tunnel kiln, gasifier, etc.
Alumina Bubble Bricks Suppliers
Zhengzhou Rongsheng Kiln Refractory Co. Ltd, established in the early 90s of twenty century, located in the foot of Mount Song, a place of Xinmi city, which is in the middle of Zhengshao Expressway. The abundant high quality materials and convenient transportation, neighboring the Longhai and Jingguang railway lines, provide favorable conditions for the production of the refractory materials. After 20 years of hardworking and development, it has become a comprehensive enterprise producing refractory materials in metallurgy, building materials, electric power and chemical industry, etc.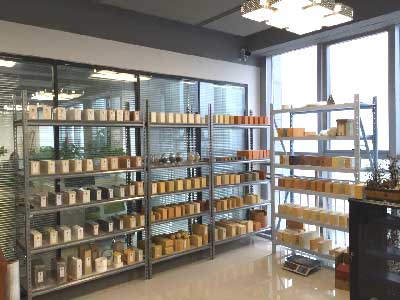 Major Products
Shaped refractory products
Unshaped refractory materials
Its major business are shaped refractories, unshaped refractory materials, insulation materials and refractory balls, etc.
Shaped refractories usually refer to refractory bricks, such as high alumina bricks, magnesite bricks, carbon bricks, fireclay bricks, silicon bricks, corundum bricks and mullite bricks, etc. In addition, there also exit different combined bricks, such as phosphate bonded aluminum bricks, magnesia chrome bricks, and magnesia carbon bricks, spinel bricks and silicon carbide bricks, etc.
Unshaped refractory materials include refractory castable, refractory plastic, coating mass, gunning mass, mortar, and ramming mass, etc. Besides, high alumina cement and calcined bauxite aggregate also play important roles in refractory materials.
Insulation materials usually include the insulation bricks, refractory ceramic fibers, such as the ceramic fiber board, refractory blanket, and the refractory rope, etc.
As for the refractory balls, there is high alumina balls, which are usually used in the hot blast stove, converter, shifting furnace, and heat transformation equipment, etc.
Professional sales and after-sales service team: they offer consumers the best all-round services in applications, construction and installation, operation and technical training, etc. Rongsheng has established cooperative relations with multiple scientific research institutes, and its products has exported to Japan, Indonesia, Iran, Kazakhstan, Vietnam, etc.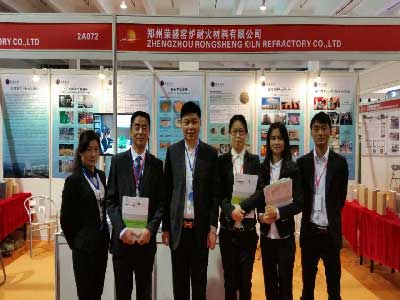 Advantages
Large scale: 1262 employees, including senior technical personnel 65, high-tech workers 80

Technological force: 

complete physical and chemical testing equipment and advanced detection methods,
Credit rating: AAA
Top goal: excellent products and services
Quality: professionals strictly check at every process
Rongsheng has always been adhering to the business purpose of honesty, respectful, innovation, and dedication. It will persist the strategic developing road based on quality and cheap to establish its own brand. By scientific management, sound customer information management system and abundant products, Rongsheng provides satisfactory, timely, and efficient services to the consumers, and has gained satisfactory feedback from our customers.
And we are hoping that YOU are the next lucky fellow.
Leave your requirements about the refractories you need. We will reply you within 24 hours. :