Refractory Castable is one type of monolithic refractory material, which is made of multiple aggregates and one kind or multiple kinds of adhesives. When using refractory castable, match with liquid through stirring. Refractory Castable is featured with high refractoriness, liquidity, and plasticity, and can be used in the thermal equipment of metallurgy, chemical industry, petroleum, and light industry.
Refractory Castable for Sale
Refractory castable for sale is a kind of special refractory materials. Compared with the other monolithic refractories, refractory castable has its own properties. This refractory material has more binders and water, so it has good fluidity and thixotropic properties. As a kind of refractory mortar, it is conveniently used in the way of pouring at high heat, or being made into prefabricated blocks, because it doesn't need heating before use.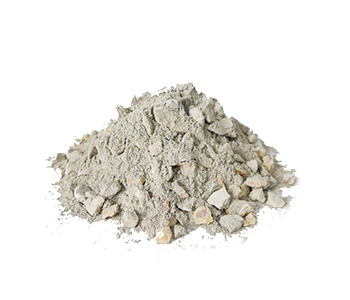 Properties
Good fluidity and flexibility
Convenient construction
High-temperature resistance
Small occupied area and low investment
Prolong the service life of thermal equipment
Excellent applicability, etc.
Composition
As is a kind of monolithic refractory, refractory castables are made of refractory aggregates or refractory sand, refractory powders, binders, additives, and water at a certain proportions.
Refractory Castable Application
With abundant raw materials, refractory castable price is lower, so they can be widely used in the heating equipment of metallurgy, chemical industry, petroleum, and light industry, such as the following parts: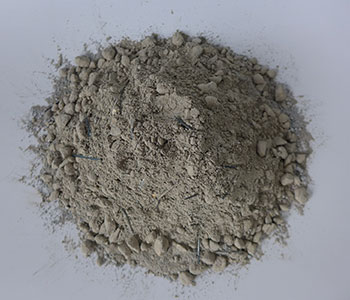 Cement rotary kiln and blast furnace shaft
Soaking furnace and coke oven
Metallurgical furnace and hearth of the heating furnace
Non-ferrous metal metallurgy, ladle, and smelting furnace
Converter, boiler, steel spout, and iron trough
The lining of the incinerator and air duct lining, etc.
Classification
According to its properties and functions, these refractory castables can be classified into insulation castable, high alumina concrete, low cement castable(LCC), steel fiber castable, and so on. Based on the chemical properties, it can be classified into alkaline castable, neutral castable, and acid castable. Magnesium or calcium is the main chemical composition of the alkaline castable, which can be used in the environment where a lot of alkaline gasses or slags are produced. Alumina or carbon is the main component in the neutral castable, which is used in all of the high heat environment, because it can withstand either acid or alkaline atmosphere, such as the corundum castable. As for the acid-resistant concrete, silica is the most represented material. Such castable can be used in the acid environment.
Attentions: Refractory Castable needs regular repairs because it maybe splits because of the erosion of the slags or thermal shock.
Related Products
Refractory Castable Manufacturers
RS Group is one of the refractory castable manufacturers, specialized in refractory materials for more than 20 years. Now RS Group owns its large-scale unshaped refractory castable production line. It mainly produces unshaped refractory materials, such as castables, high alumina cement, refractory clay cement, plastic refractory, ramming mass, raging fabrics, spray coatings, etc.
Rongsheng provides superior refractory castable products, professional information, and all-around services winning good reputation at home and abroad. Company products except for domestic use, they are also exported to India, Iran, Ireland, Pakistan, Bangladesh, Japan, Greece, Australia, Vietnam, Russia, southeast Asia, and other countries and regions, and RS has won a great reputation. If you are looking for unshaped refractory materials for your thermal equipment or industrial furnaces, you are welcome to place an order with us.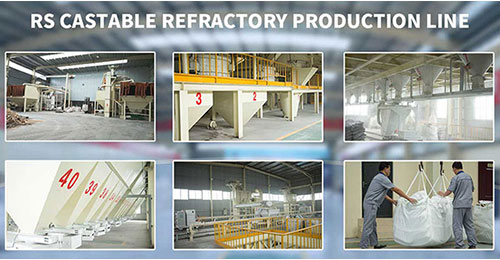 About 20 years of hard work of  1262 employees, Rongsheng has become an excellent refractory enterprise with a credit rating at AAA grade, and the economic indicators and the enterprise technical force, namely the scale keep the leading position in the domestic industry. Since then 2004, it has gained the honor of advanced enterprise given by the Industrial and Commercial Bureau of Henan Province, for its good credit. And now it has been a high-tech and fast growth enterprise.
Buy Refractory Castable form Rongsheng and enjoy the service of satisfactory, timely, and efficient!
Leave your requirements about the refractories you need. We will reply you within 24 hours. :