Rongsheng refractory manufacturers wholesale supply anti-corrosion graphite carbon bricks in large quantities. Anti-corrosion carbon bricks are made of high-quality carbon materials and added with organic compounds with strong acid corrosion resistance. It is combined with a modified binder, impregnated and solidified under high pressure, and then refined by a new technology pioneered in China. It has extraordinary corrosion resistance. It is widely used in corrosion-resistant lining equipment such as large-scale phosphoric acid reaction tanks, digestion tanks, storage tanks in the chemical industry, and pickling tank linings in the metallurgical industry. Carbon bricks & Carbon tiles, with their low cost and excellent performance, are well received by users, and the products sell well in many countries and regions around the world.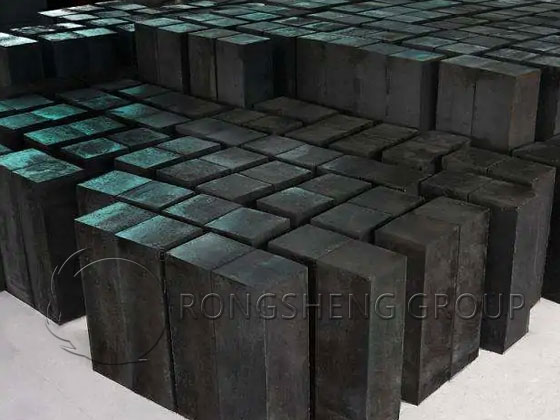 Rongsheng Carbon Brick Lining
AS Carbon Brick Lining, anti-corrosion carbon brick is a high-quality carbon material. Ideal lining material for storage tanks, extraction tanks, pickling tanks, waste water tanks, and other equipment.
Impregnated Carbon Bricks
Rongsheng's impregnated graphite carbon bricks use high-quality graphite carbon materials and add organic compounds with strong acid resistance. It is refined by high-pressure forming, vacuum impregnation, and high-temperature heat treatment. With extraordinary acid resistance and temperature resistance, it is an ideal lining material for phosphoric acid reaction tanks, phosphoric acid storage tanks, and other equipment in the chemical industry.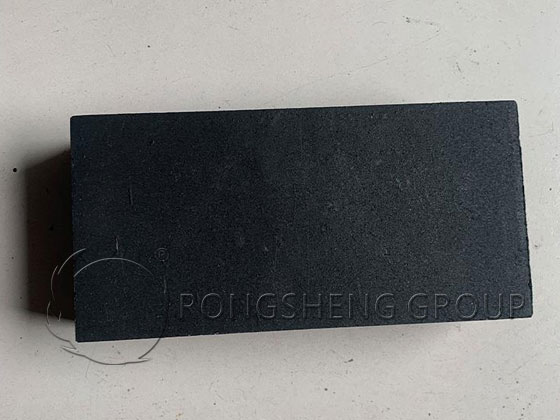 Impregnated graphite carbon brick has the following characteristics:
Excellent corrosion resistance. The impregnated graphite carbon brick adopts excellent graphite carbon material and adds an organic compound with strong acid resistance. It effectively reduces the porosity of Carbon bricks/tiles and increases the bulk density of the product. Therefore, it has excellent anti-corrosion performance and strong wear resistance.
Stable performance and strong durability. The carbon brick production uses high-strength organic glue as a binding agent and introduces high-tech additives at the same time. Therefore, it has high strength, good wear resistance, and an extremely stable structure. As the temperature changes, the structure of the product does not change.
Precise dimensions. Rongsheng's graphite carbon bricks are molded. Carbon brick products have good molding quality and precise dimensions. Rongsheng manufacturers also accept the requirements of users to produce special products, for example, Carbon bricks/tiles/shapes/sleeves, etc. It can fully meet the requirements of different construction masonry techniques.
Physical and chemical indicators of impregnated graphite carbon bricks. The bulk density of impregnated graphite carbon brick is 1.6-1.9g/cm3. Compressive strength>59Mpa. Tensile strength>12.5Mpa. Permeability (impervious to water pressure) 0.8Mpa. Immersion depth ≥ 20mm.
The specifications, length, width, and thickness of impregnated graphite carbon bricks can be customized according to the actual needs of customers. Graphite carbon brick (standard/rectangular), graphite carbon brick (side wedge), graphite carbon brick (end wedge), etc. Special-shaped graphite carbon bricks, such as thick and wide models, arched corner bricks, fan-shaped bricks, etc., are produced according to the requirements of the user's drawings.
Non-Impregnated Carbon Bricks
We supply Non-Impervious Carbon Bricks all over the world. The Non-Impervious Carbon Bricks, also called Carbon Non-Impregnated Bricks, (Standard Bricks A Quality) that we deal in conform to ASTM or Din standards. These Non Impervious Carbon Bricks are specially designed for high corrosion resistance & excellent resistance to thermal shocks, mainly for all major acids and alkalies. We also provide total turnkey job solutions & projects related to Non-Impervious Carbon Bricks.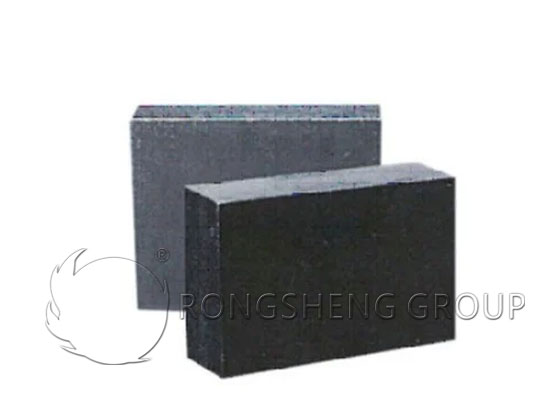 Specification
Temperature resistivity 750°C & more
The minimum carbon content is 99%
Very low ash i.e. Less than 1.0%
Application Areas:
Phosphoric acid plant: Reactor, storage tanks, vessels, clarifiers, settlers, pipelines, etc.
Hydrofluoric Acid plant (HF) & fluorosilicic acid plant
M.S. & stainless steel pickling plant
All chemicals industries (Highly corrosive areas)
Fertilizers & Dyes industries
Zinc smelter quenching tower
H2SO4, HCL, fluorides & Alkalies
Caustic scrubbing tower
Phenol Impregnated Carbon Bricks
Phenol Impregnated Carbon Bricks (AF) Quality (Confirming to as per ASTM or DIN Standard) especially developed for Highly Corrosion Resistance, Excellent Resistance to Thermal Shocks, High Crushing Strength, and High Thermal Conductivity & it withstands temperatures up to 180°c. Very minimum Porosity i.e. 2-3 % & Maximum Carbon content i.e.98 % and Low Ash.
Acid Proof Carbon Bricks
Acid brick or acid-resistant brick is a specially made form of masonry brick that is chemically resistant and thermally durable. Acid brick is created from high silica shale and fired at higher temperatures than those used for conventional fire brick.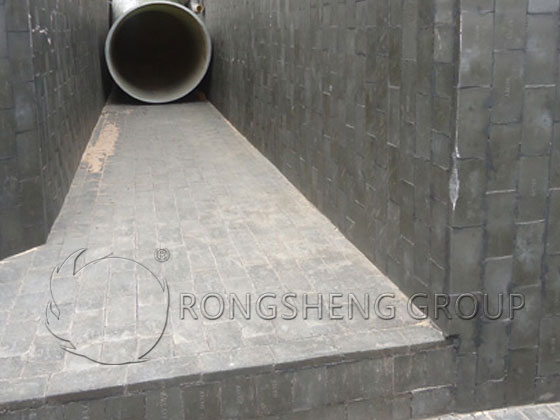 Acid Resistant Carbon Bricks are made from high-quality carbon-containing materials and acid-proof organic compound, which is shaped under high pressure and bonded by a high-quality bonding material, giving high mechanical strength.
Chemical Carbon bricks are used in chemical-resistant construction in exposures that cannot readily be handled by other kinds of brick.
Carbon-filled materials are everywhere indicated under conditions involving HF and strong alkalis. Brick made of carbon is, at this time, the only construction unit that can withstand these chemicals. The relatively high porosity of carbon brick and other units explains to a large degree their ability to withstand thermal shock and to dissipate compressive stresses better than any other types of masonry units.
Carbon bricks are inherently non-wetting and highly resistant to many acids, alkalis, salts, and solvents and combinations of these chemicals at varying temperatures and concentrations.
Precautions for Using Carbon Bricks
Do not place carbon brick directly against a lead lining or against stainless steel. Direct contact between carbon and many metals will set up a galvanic cell with the metal cathodic to the carbon, and cause the wasting of the metal. For the same reason, avoid contact between such metals and the carbon-filled mortars used to join the carbon units. A voltage breaker should be inserted between them.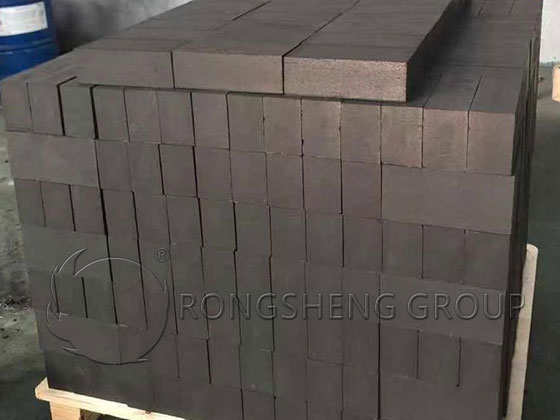 Rongsheng Carbon Bricks Manufacturer
As we all know, carbon bricks have good chemical stability and excellent corrosion resistance. Especially suitable for an anti-corrosion layer in a strong corrosive medium. In addition, graphite board has acid resistance (especially resistance to hydrofluoric acid medium), and high-temperature resistance, and acid-resistant tiles have resistance to concentrated acid and alkali. Depending on the choice of cement, the resistant medium is different. Suitable for anti-corrosion engineering in the chemical industry, electric power, metallurgy, pharmaceutical, and other industries. Rongsheng Company is the final solution for saving time, which is being wasted on repair & maintenance. The use of Rongsheng Refractory Materials will also help reduce frequent shutdowns of plants, which automatically increase the production of the final finished products. Any dimensions and shapes can be made available depending upon requirements and as per drawings of clients & consultants.
Leave your requirements about the refractories you need. We will reply you within 24 hours. :