High alumina castable adopts high alumina clinker as aggregates and fines, binders, dispersant and other additives are added into raw materials during production. It can be directly used for the casting of refractory lining, or be casted into precast blocks. High alumina castable has the advantages of good anti-permeation ability, anti-corrosion ability, good thermal shock resistance, good abrasion resistance, good mechanical performance and so on.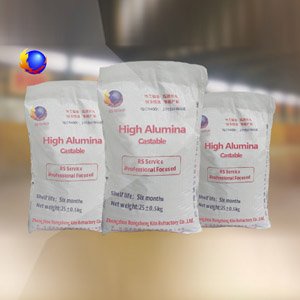 High alumina castable physiochemical indexes
Item
Unit
High alumina castable
Al2O3
%
70
Refractoriness
℃
1770
Reheating linear change rate
%
-0.4
Crushing strength
MPa(110℃, 24h)
70
Modulus of rupture
12
Max. working temperature
℃
1400
Binding material types
Hydrous setting

High alumina castable application
High alumina castable is widely used in power plant boiler and other thermal furnaces, including back arch, furnace top, tail furnace wall and so on. High alumina castable is also suitable for heating furnace, soaking pit, heat treatment furnace, rotary kiln and so on. Various kinds of high temperature burner nozzle working lining, heating furnace water pipe wrapping lining, steel liquid secondary refinery equipment, petrochemical catalytic cracking reactor can also be constructed by high alumina castable. Besides, blast furnace iron runner, copula tapping spout, iron liquid pretreatment monolithic gunning machine can also be built by high alumina castable. It can also be used to make large size precast blocks and linings.
Leave your requirements about the refractories you need. We will reply you within 24 hours. :