Low cement castable is developed on the basis of clay – bonded refractory castable.The main products are low cement, ultra-low cement, no cement or ultrafine powder and silica sol combined castable. It has the advantages of high density, high strength, low porosity and low wear, as well as the characteristics of anti-permeability and anti-corrosion.
The low cement castable has the characteristics of anti-penetration, anti-erosion, anti-impact, anti-wear, good mechanical properties, etc. It is widely used in the front and rear arches, roof and rear walls of power station boilers and other thermal kilns.
What needs our attention is that in the use of refractory castable should pay attention to the following four key links, namely mixing, pouring, curing, baking. Any one of these problems may lead to product performance degradation or use failure.Therefore, in the process of use, to pay more attention to, not careless.
Because of the low content of CaO in the low cement castable, the formation of low eutectic phase in the material can be reduced, and the refractoriness, high temperature strength and corrosion resistance of slag can be improved. Secondly, the water consumption of castable during construction is only 1/3~1/2 of that of general castable, so the porosity is low and the volume density is high.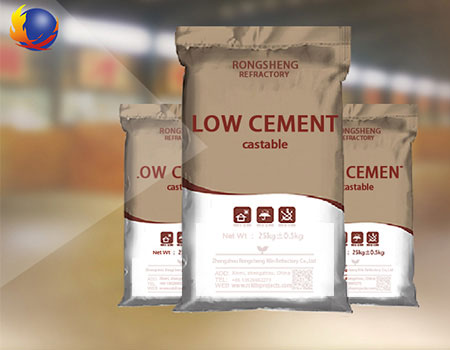 Zhengzhou Rongsheng Kiln Refractory Co.,Ltd. is high quality refractory castable manufacturer,we produce, research and development, sales of high quality refractory products, the customer's consistent praise, is worthy of customer trust, product safety has guaranteed quality manufacture.Welcome to consult and purchase!