What is Zirconium Silicate Flour? Zirconium Silicate Flour is a non-toxic, odorless white or off-white powder. Zirconium silicate is processed from natural zircon sand by ultra-fine grinding, iron removal, titanium removal, and other processes. It is characterized by a high refractive index (1.93~2.01), good chemical stability, and high-temperature resistance. Contact Rongsheng for the Zirconium Silicate Flour latest price.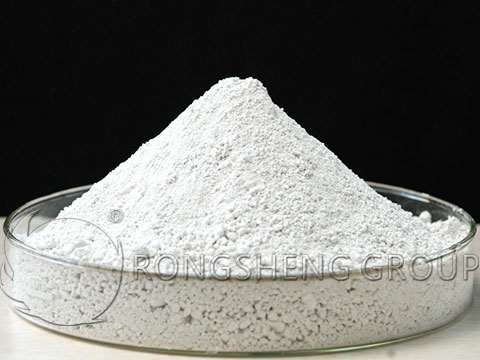 Name
Zirconium Silicate
Chemical Formula
ZrSiO₄
Solubility
Insoluble in water
Color
White or off-white
Category
Inorganic – silicate – zirconium salt
Theory Composition
ZrO2(67.2%); SiO2( 32.8%)
Other Names

Zirconium silicate, 99%; zirconium(4+) orthosilicate; zirconium(2+) oxosilanediolate; dioxido-oxo-silane; zirconium(+4) cation
Zirconium Silicate Flour Uses
As an opacifier, Zirconium Silicate Flour is widely used in various types of ceramic glazes. For example, architectural ceramics, sanitary ceramics, household ceramics, etc.
It is also widely used in precision casting, color picture tubes, float glass, enamel glaze, and other industries.
In the plastics industry. For epoxy formulations, sealing resins, fillers for silicones, vinyls, and resins to increase heat resistance and improve resistance insulation values, for fillers that require inert, fine, white, and chemical resistance.
In addition, due to the high melting point of zirconium silicate powder, it is also widely used in refractory materials, zirconium ramming materials for glass furnaces, castables, and spray coatings.
RS Zirconium Silicate Flour Product Specifications & Applications
Type
Average mesh
Application
RS-1.0

D50≤1.0um

High-grade sanitary porcelain
High-grade daily-use porcelain
High-grade crystal brick

RS-1.2
D50≤1.2um
RS-1.5

D50≤1.5um

Middle and low class sanitation porcelain,external and internal brick, archaized brick, engobe, body, etc.

RS-2.0
D50≤2.0um
What is the Role of Zirconium Silicate Flour in the Glaze?
Whitening: improve product whiteness;
Opacity: cover the color and sundries of the bottom green body;
Toughening: Increase the toughness of the glaze to prevent cracks;
Wear resistance: Increase the wear resistance of glazed floor tiles.
The role of Zirconium Silicate Flour in the glaze is mainly to increase the whiteness, in addition to increasing the firing temperature and improving the elasticity of the glaze. A certain amount of zirconium silicate powder is added to the polished ultra-white floor tiles we use every day. There is also a certain amount of zirconium silicate on the glaze of the tiles that are laid in our daily bathrooms and other places. Its function is also mainly to increase the whiteness, and also to increase the elasticity of the glaze, that is, to solve the phenomenon of cracking the tiles.
The Dosage of Zirconium Silicate Powder in Traditional Ceramic Industry
The application ratio of zirconium silicate in the traditional ceramic industry. Daily ceramics and sanitary ware are mainly used for high temperature opaque glaze, and their content is 8-12% and 8-14% respectively. Glazed interior wall tiles are used for cosmetic soil and zirconium white frit, the content of which is 4-10% and 10-12% respectively. The early porcelain polished tiles were used for ultra-white tiles, and their content was 3-5%, more than 3-5%, and the internal irradiation and external irradiation increased significantly. Therefore, many companies reduce the amount of zirconium silicate in polished tiles, generally adding 1-2%, and glazed products will also add 1% zirconium silicate or zircon powder to increase stability, but this is not the main application. The application of zirconium silicate in pigment-related fields is more than 50%.
RS Zirconium Silicate Flour Chemical Properties
| | | | |
| --- | --- | --- | --- |
| Item | RS65 | RS64.5 | RS63.5 |
| ZrO2+HfO2 | 65.0 min | 64.5 min | 63.5 min |
| Fe2O3 | 0. 06 max | 0. 08 max | 0. 12 max |
| TiO2 | 0.10 max | 0.12 max | 0.18 max |
Zirconium Silicate Flour for Sale
As one of the zirconium silicate powder suppliers, we provide high-quality Zirconium Silicate Flour for ceramic glazes, and also zircon sand. For our customers, such as from Russia, Belarus, Moldova, Armenia, Azerbaijan, Tajikistan, Kyrgyzstan, Kazakhstan, Uzbekistan, etc. To get the latest zirconium silicate price, please contact us.
Leave your requirements about the refractories you need. We will reply you within 24 hours. :