Corundum refractory brick is favored by many merchants in industrial production. It not only has excellent performance in fire resistance, but also has strong resistance to corrosion. We are corundum brick manufacturer. Today we are going to introduce the main functions of corundum bricks.
Corundum brick is a refractory material with alumina content above 90% and often contains trace impurity elements Cr, Ti, Fe and V. Corundum bricks on the market can also be divided into different types according to their composition, which we will introduce for you below.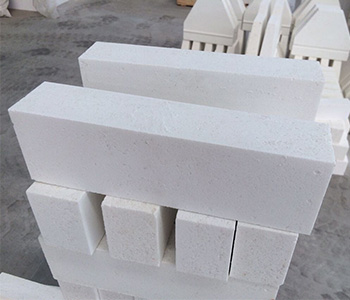 Brown fused alumina refractory brick is bauxite, refractory coke (anthracite) as the main raw material, the main chemical composition of aluminum oxide, titanium oxide loop contains a small amount of silica and iron oxide, etc., microhardness HV1800-2200, high toughness than SIC, made of brown fused alumina abrasive, suitable for grinding the high tensile metals, such as all sorts of general steel, malleable cast iron, hard bronze, etc., can also make brown corundum brick, is a high-grade refractory material.
High alumina corundum bricks are made from high-quality bauxite, while sub-white corundum bricks are made from high- quality brown corundum bricks. Because its chemical composition and physical properties are similar to white corundum, subwhite corundum is produced on the basis of high-quality brown corundum. Because its chemical composition and physical properties are similar to white corundum, it is called sub-white corundum. Volume density ≥3.8g/cm2, fire resistance ≥1850℃. The refractory product has the hardness of white corundum brick and the toughness of brown corundum brick.
White corundum brick is made of aluminum oxide powder by smelting at high temperature. It is white, slightly higher than brown corundum brick hardness, toughness slightly lower. It is suitable for grinding high carbon steel, high speed steel and quenched steel. White corundum can also be ground and polished materials, can also be used as precision casting molding sand, spraying materials, chemical coal, special ceramics, high-grade refractory materials.
Zirconium corundum brick is made of alumina and zirconia by smelting above 2000℃ in arc furnace. Tough texture, dense structure, high strength. The main mineral phase of zirconium corundum is the eutectic form of alumina and al2O3 – zirconia. In order to ensure the quality of zirconium corundum, in addition to reasonable selection of smelting parameters and processing technology, cooling technology and processing technology, the choice of appropriate additives, reduce the content of silica in zirconium corundum brick, alumina and zirconia eutectic and uniform structure is also the key to the production of zirconium corundum brick. Corundum brick manufacturer stable and reliable quality, reasonable price, welcome to consult.
Corundum bricks has been widely used in high temperature and high pressure, severe chemical erosion and mechanical wear of petrochemical thermal lining material, with the progress of petrochemical industry production technology, a lot of new technology and new technology is adopted in production, in order to make equipment to large load, long cycle, low energy consumption, low cost, except to modify all sorts of thermal equipment, also for a variety of thermal equipment lining materials is put forward higher requirements. Therefore, a series of corundum products with better high temperature resistance and erosion resistance were developed to meet the needs of petrochemical industry. As a high quality corundum brick manufacturer, we have been committed to producing high quality refractory products for many years and have established friendly cooperative relations with many customers.
Leave your requirements about the refractories you need. We will reply you within 24 hours. :